Regulated by CySEC
Start trading just from $10
Maximum payout up to 95%
Withdrawal money in 24 hours
24/7 сustomer care service
Software: Spicio
Regulated by: CySEC
Min deposit:

$250

Bonuses: None
Min deal: 

$24

Max deal: 

$1,000,000

Assets: 

100+

Types: Forex, CFDs
Software: Spicio
Regulated by: CySEC
Min deposit:

$250

Bonuses: None
Min deal: 

$24

Max deal: 

$1,000,000

Assets: 

100+

Types: Forex, CFDs
About Company
24option started in 2009 and is owned by Rodeler Ltd. This company is operating under Cyprus Securities Exchange Commission (CySEC) license (Number 207/13). Aside from that, 24option is also registered with the FCA (British Financial Conduct Authority. They are currently an official partner of the Juventus Football Club.
24option offers Forex and CFD trading. It has a great reputation when it comes to being reliable and a transparent broker. They are also known for being one of the most advanced companies in the industry of online trading, along with being user-friendly. They provide a very convenient platform to trade financial markets. Whether you are already a professional trader or someone new in the industry, 24option provides materials for you to hone your skills in Binary Options trading.
You can rest assured that 24option is not a scam. With the fact that it is being regulated by Cyprus Securities Exchange Commission (CySEC), 24option makes sure that the funds of their clients are safe. Of course, being regulated does not equate to being a great Binary Options broker. Fortunately, 24option is among the list of the best in the industry.
24option also operates outside the European Economic area and is offered by Richfield Capital Limited. It is regulated there by International Financial Services Commission Of Belize. Because 24option operates in many countries, their website can be viewed in multiple languages. Their clients can also conduct transactions using multiple currencies.
Trading Platform
When 24option started, it used the TechFinancials platforms. TechFinancials is a third party platform that is used by others. There are some pros and cons in using that and in the end 24option and TechFinancials parted ways. Now, 24options uses its own proprietary platform called Scipio.
The best thing about having your own proprietary platform is that you can control every single thing about your business. You can focus on just you and that is what 24option did. Because of that they can create updates and add new features faster.
Being confused because of the change is not that much of a problem since TechFinancials and Scipio have similarities.
24Option Bonus
As was mentioned earlier, 24option is regulated by CySEC. Because of this, they are not allowed give bonuses or offer any promos to their clients. CySEC had banned any form of cash rewards, even those that are not directly tied to trading. They encourage companies to offer lower spreads to their clients instead of giving bonuses or promos.

Option types
When you use 24Option for your binary options trading, it allows you to trade with 3 types of option contracts.
High/Low Options: 
As the name suggests, in the High/Low options, a trader simply has the decision to close the price of an asset at either a higher or lower price compared to its current price.
Short Term Options: 
Short term options are, in a way, just like the High/Low options in the way that a trader has to decide whether to close the price of an asset at either a higher or lower price. The difference is that it is relative to the strike price in 60 seconds, 2 minutes or 5 minutes.
100% Payout Options: 
In 100% payout options, you will have to decide whether the expiry price will end up closing lower than the lower boundary or higher than the higher boundary. That means that in a way, the 100% payout options are just like boundary type options.
Account types
A lot of people are now getting more interested in trading, binary options in particular. That is why it is quite logical to open it to people who are starting out. To be able to cater to a wider base, 24option offers 5 different types of account.
Aside from the 5 major types of account, there are also Islamic Type accounts that follow the Islamic Sharia principle of 'No Riba'. There is, of course, a minimum amount you need to deposit in order to create an account in 24option, and it is listed in different currencies: $250, €250, £250, ¥25,000 or RUB 10,000. Note that the minimum deposit is not equal in value.
Demo account
Demo accounts are very important especially if you are still new to Binary options. It provides you with a way to test your skills without squandering money. You can't just rely on luck when it comes to trading so this is also a good way to hone your skills.
To access the 24Option demo account, you will have to deposit at least $1000. That amount will be worth it because their demo account is quite excellent.
Mobile App
Not all of the traders carry their laptops everywhere they go. Aside from that, using your laptop every time you want to access your 24Option account is just not convenient. The only thing close to a laptop that we always have on our body is our smartphone.
24Option has a mobile app available for both Android and Apple devices. It is, of course, free and among the list of other Binary Options trading applications. The amount of space in the memory of your smartphone that the app will take is relatively small so you will not have to worry about running out of memory.
As for the registration of accounts, it is clearly stated in the description that for regulatory purposes, it is restricted. The app is available in 12 different languages and you can use it to trade in a range of currency combination. But there are technical issues in the app and there are also things that you can only do on their website and not on the app. Over all, the mobile app is not the best there is in the app stores.
Deposit and withdraw
Because of the fact that 24option caters to an international clientele, they had to make sure that a way to fund the account of the client can be done anywhere. You can use credit or debit cards, you can wire transfer the money, you can use Skrill, CashU or MoneyBookers. So as you can see, depositing the funds is easy as well as convenient.
You have to keep in mind, though, that the minimum amount deposit varies with the type of deposit method you will use:
Credit Card: $250, €250, £250, ¥50,000 or RUB 10,000 (there is also a limit for credit card deposit, daily is $/€/£ 10,000 or ¥100,000 and monthly is $/€/£40,000 or ¥4,000,000)
Electronic Payment: $250, €250, £250, ¥50,000 or RUB 10,000
Wire Transfer: $1000, €1000, £1000 or ¥100,000
Now that you know how easy it is to deposit, let's move on to withdrawing. The first deposit and withdrawal in any account type in 24option do not have any charge. You get one free withdrawal every month with Basic, Silver and Gold account and every withdrawal is free with Platinum and Diamond account.
Before withdrawing funds, you will be asked to verify your account by sending a few basic documents. After that everything will be hassle free and you can do you withdrawals the same way you deposit funds. The transaction usually takes 3 to 7 business days to complete.
Education resources
When you decide to take a plunge into the world of 24option, you should never be overconfident. There's a disclaimer on their site that says past success is not an indicator of future success and that's true. They offer a demo account so take advantage of that.
Aside from that, there are resources available on their website for your learning. There is an eBook that you can download from their website. They also have an interactive eBook that you can use which is quite brilliant.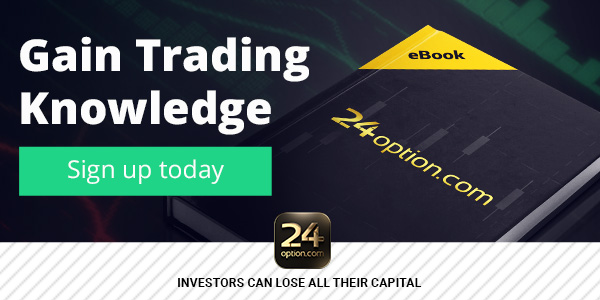 Customer Care 
24Option is not just focused in one country, as exhibited by the fact that they listed the minimum required amount to open an account in different currencies. It does not stop there, their website supports multiple languages as well (Arabic, Italian, German, Portuguese, Spanish, Russian, French and Polish).
The customer service of 24Option is open around the clock and you, as a trader, can contact them in multiple ways. So it would be very easy to contact the support team every single time that you will need assistance. You can send them an email, you can fill up a web contact form, you can reach them through the telephone or talk to them via live chat.
Conclusion
24option provides a great platform for Binary Options trading. Not only is it a safe place to conduct transactions, it's also easy and convenient to use. If you are new to the industry, it is a good place to start and if you are a professional, you can hone your skills in 24option.
24option definitely has its own share of flaws and limitations. There are some places where that can use some improvements. However, over all, 24option is one of the best in the industry. They have improved through the years and it is not far-fetched for them to improve where they are lacking.
PROS
Regulated by CySEC
Max payout up to 200%
Great Platform
CONS
Not accept traders from USA